Contact | Legal information

Sabine Sapp, PGCert
English > German Translator and Transcreator
Wanfrieder Straße 28
28215 Bremen
Germany

Phone:.....+49 421 450470 (Please contact me via e-mail only. I will inform you of the reason on request.)

E-mail:.....sabine@sabine-sapp.com


Scam and Identity Theft Prevention
Important note: I will contact you via the following e-mail address only: sabine@sabine-sapp.com │ My official domain name: www.sabine-sapp.com
Important note: I will never contact you via any other e-mail address.
Important note: If you receive an e-mail in my name via another e-mail service provider, please contact me, as you will most likely be dealing with a scammer or an
Important note: identity thief.

Web: www.sabine-sapp.com

LinkedIn Profile: www.linkedin.com/in/sabine-sapp/

VAT Identification Number in accordance with section 27 a of the German VAT Act: DE 181157029



Academic translation qualification
Master's-level Postgraduate Certificate in Principles and Practice of Translation with Merit awarded by City, University of London, United Kingdom

Memberships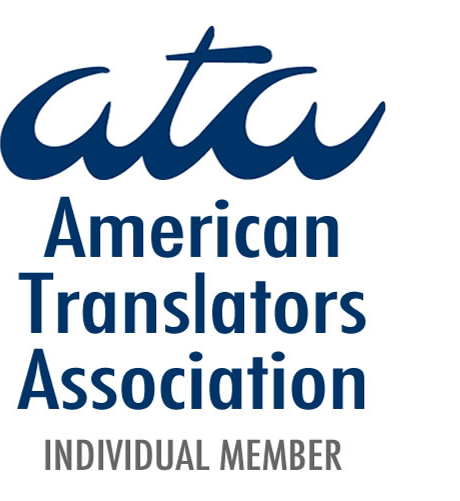 My website
Text, tagline and design:......................................© 2017-2021 Sabine Sapp. All rights reserved.

Photos:............................................- English translation button, German translation button © Denys Rudyi - Fotolia.com
Photos:............................................- Translate Word Computer Keyboard Key Button © iQoncept - Fotolia.com
Photos:............................................- Flying alphabetic characters © Dreaming Andy - Fotolia.com
Photos:............................................- "MARKETING" Tag Cloud © treenabeena - Fotolia.com
Photos:............................................- Living room © castelberry - Fotolia.com
Photos:............................................- Beach vacations directions © Franck Boston - Fotolia.com
Photos:............................................- Summer beach maldives (sic!) images © Nikolai Sorokin - Fotolia.com
Photos:............................................- 3d interior exotic modern hotel bedroom night with sea view © Mihalis A. - Fotolia.com
Photos:............................................- Pearl beeds on sensuous creamy satin © theaphotography - Adobe Stock.com
Photos:............................................- Beach lounge, sun loungers on Sunbathing deck and private swimming pool with
Photos:............................................- panoramic sea view at luxury villa/3d rendering © LEKSTOCK 3D - Adobe Stock.com
Photos:............................................- Bedroom interior design © PhotoSerg - Adobe Stock.com
Photos:............................................- Modern designer desk top closeup © peshkova - Fotolia.com
Photos:............................................- Creative Process, Ideas Generation or Creativity icon illustration
Photos:............................................- © BadBrother - Adobe Stock.com
Photos:............................................- Creative box. Think Outside the Box, Imagination, Creativity and Brainstorm concept.
Photos:............................................- © BadBrother - Adobe Stock.com
Photos:............................................- Icons: computer, stars © Freepik - www.flaticon.com,
Photos:............................................- Icons: suitcase © monkik - www.flaticon.com
Photos:............................................- Portrait photo © Andreas Sapp

ATA logo:.........................................The ATA logo is the property of the American Translators Association.
BDÜ logo:........................................The BDÜ logo is the property of BDÜ (Bundesverband der Dolmetscher und Übersetzer).

Realization and programming:..............ckb informationstechnik Andreas Sapp, Bremen

Office hours
The best way to contact me is via e-mail.

Monday to Friday:...........9 a.m. to 12 p.m. (Central European Time)
Monday to Thursday:......2 p.m. to.....6 p.m. (Central European Time)

Availability via e-mail for clients located in non-European time zones:
Monday to Thursday:......9 a.m. to 12 p.m. and 2 p.m. to 8 p.m. (Central European Time)